Welcome to Lilly's Lab!
We need your help to complete Lilly's experiment by collecting ingredients. But first we need to get you set up!
Start by downloading our app "Lilly in the Lab" from the Google Play Store  (iOS Coming Soon!)
Once the app is downloaded hit the "Play Game" button.
The app will ask you for permission to access your device's location and camera. You will need these features to successfully complete the game.
Once you have granted the app permissions you should be able to see through your phone's camera. Press anywhere on the screen to shoot a Fluffle! (Lilly's little orange friend). She will help you catch ingredients!
To start the game, click on Lilly's image in the lower left corner. Click "continue" to scroll through everything she has to tell you.
Check out the "Map Menu" to find the 5 Marda Loop locations (see below for examples)
When you are in the right location a Fluffle ball will appear on the screen.
Tap the ball for instructions.

Wave your phone around and find the ingredients you need to collect.
Tap the screen to release the Fluffle. When Fluffle collides with 10 ingredients, you win an icon.
Thank you for your help and we hope to see you in the lab shortly. Best of luck!
Allow access to camera and location. Wave your phone around like a wizard until you see "screens" on the ground.

Tap the screen and Lilly will spawn in the location
Avenue Deli: Balloons in the air
Blush Lane: Beakers on the ground
RNDSQR: Lotus flowers on the ground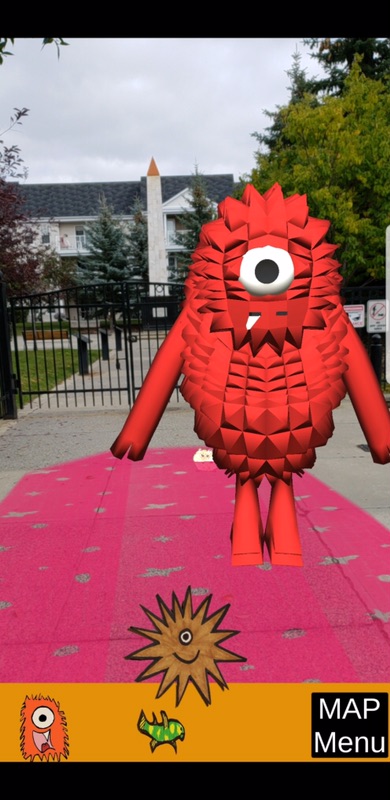 Menin Gate (find the obelisk!): Tiny fast hamsters on the ground
Garrison Square Park (traffic circle): fish in the air
When you find all five, you can open the lab portal.
SAFETY TIP: End the game at Garrison Square Park. There is more room for the portal.
Post a pic of your friends with Lilly and tag us! (sorry, no selfies yet. Game will disconnect.)
Download the App for free in these Marda Loop locations: